"Housed in the stately MAS building, the MAS Gallery is a classy and compact experience centre that exudes warmth and confidence befitting of its owner."
Several key concepts drive the design of the MAS Gallery.
Respecting the stately building that houses it, and the role of MAS in Singapore, a minimalistic design approach was taken.
Spaces within the gallery were carved out using 2 basic geometries: circles and rectangles. These 2 forms intersect to create zones out of what was formerly an office space. Free-form and "fancy" design elements were avoided to ensure that the design stays consistent to its intent.
Natural materials were used to represent honesty and integrity. These materials and different blue texture evolves over the path of the gallery, where the materials interact from one zone to another.
Graphics were created using only basic colours: YELLOW, BLUE, RED and simple lines.
A "not more that 100 words" rule was applied to wall text, even for the most complex and difficult topics, to ensure that copy-writing does what it is supposed to do – to be understood.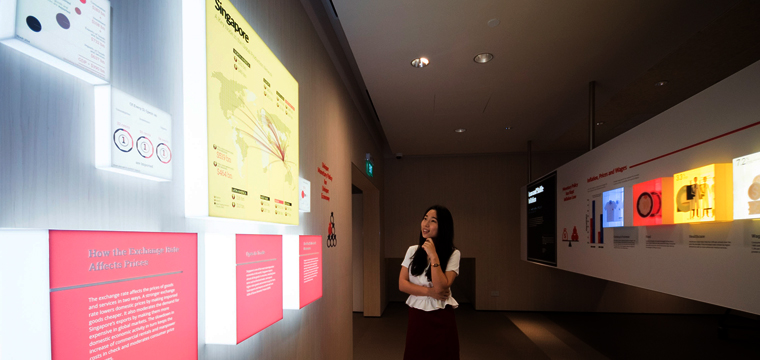 Learning about Economics and Monetary Policies
Colourful infographics explain how the exchange rate is used in Singapore to maintain low inflation while sustaining growth. Visitors can even try their hands to save our economy by adjusting economic policies at the Monetary Policy game, or they can go into the ops room and help to stabilise the exchange rate.
One could also read a simple analysis of the economic outlook and current policy stance from the wall projected magazine "MAS NEWS".